The Costs of Patenting
Patenting is an expensive activity. In 2006, it costs on average between $10,000 (¤7.800) and $15,000 (¤12.000) to obtain a single U.S. patent using professional assistance. Over the 20 year lifesspan, each U.S. patent costs approx. $23,000 (¤18.000).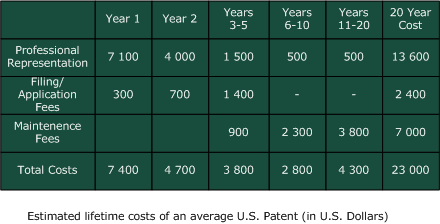 According to a study commissioned by the European Patent Office, (pdf file) it costs on average ¤32.000 ($38,000) to obtain a European patent registered in six European countries. Over the life of an EPO patent, the costs can reach nearly ¤47.000 ($60,000).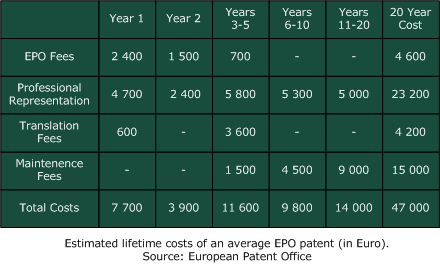 Acquiring a patent portfolio of any size requires a large cash investment. Patents that do not contribute to the business goals of the company are nothing but a burden to the bottom line. Avoiding the investment in patents which contribute no business value not only saves money - it helps keep the focus on obtaining high quality patents that DO contribute business value.

---
"... a rule of thumb is that gaining sufficient protection for a patent internationally will cost about $100,000. Filing ten related patents to create a protective 'picket fence' around the key patents will cost $1 million."
-The Smother of Invention, Forbes Magazine, 2002